Warm and tropical is the most accurate description of St. Lucia weather. The year-round temperature of 80°F/27°C barely fluctuates, while gentle trade winds keep life in St. Lucia breezy most of the year and sporadic tropical rain showers are typical from June to November.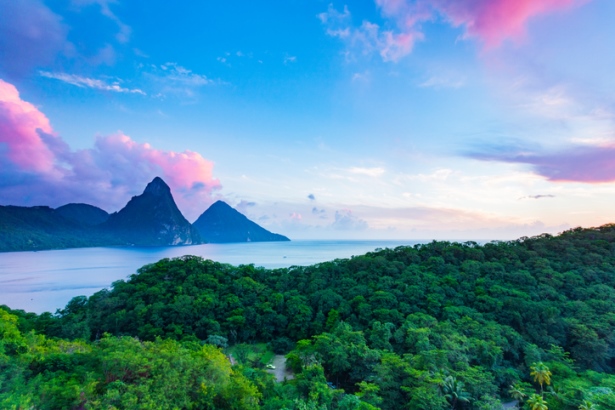 Whatever your idea of being pampered includes, St. Lucia proffers accommodations to suit every taste, budget, desire and mood, from the romantic to the family-friendly, from the rustic to the exceptionally lavish. Discover St. Lucia's culture through quaint guesthouses and cottages tucked into lush, tropical settings, boutique-style accommodations amid plantations, as well as luxurious resorts, each offering amenities and comforts from the exceptional to the sublime.
From the tasty crunch of just caught fish fried beachside to culinary creations served on crisp white linens, you will enjoy the mix of cultural influences that make St. Lucia's food outstanding. The freshest delicacies from the surrounding waters and the freshest locally harvested produce make everything a taste sensation. Add to that the mix of Asian, European, Indian, American and Caribbean influences and you'll quickly understand the international reputation St. Lucia enjoys for its authentic flavors.
Heading the list of amenities are those offered by Mother Nature. The unparalleled Diamond Falls and Botanical Gardens and Diamond Mineral Baths are among the most exotic. St. Lucia is also renowned for world-class diving. Other popular pastimes include deep-sea fishing, sailing, and yachting, as well as zip lining through lush rainforests, horseback riding, and hiking. Luxurious spas at the many resorts and hotels throughout the island offer unique and restorative health and wellness opportunities. From mineral-rich springs to healing mud baths, yoga to unique bamboo massages, you will find no shortage of peaceful ways to relax and refresh yourself while vacationing in St. Lucia.